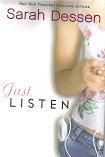 I recently read this book.
Just Listen
by Sarah Dessen. This book has so much meaning behind it that I can barely grasp all of it. Here's the summary:
Annabel Greene is the girl who has everything. At least that's who she plays in a commercial for Kopf's Department Store: top student, popular cheerleader, dazzling prom queen surrounded by friends. In real life, though, Annabel is the girl who has nothing: no best friend since her friendship with mean-but-exciting Sophie ended with malicious rumors flying, no peace at home while her older sister's eating disorder preoccupies the family, and no ability to tell anyone what's on her mind.
And then she meets Owen Armstrong- intense, obsessed with music, and determined to always tell the truth, no matter what the consequences.
Can a girl who hates confrontation find a way to connect with a guy who thrives on it? And can Annabel find the courage to tell what really happened the night she and Sophie stopped being friends?
The more I got into the book the more the character Owen made me think. It's still on my mind. The book basically makes me realize that everyone has a story. Things aren't always as they appear. You can make all the assumptions you want, but in the end the only way you'll ever know the truth is if you get involved. Owen explained to Annabel that using words like "something" or "stuff" are place holders. They're used to mask the truth. "R and R" means rephrase and redirect. I think it could easily be applied to real life. Just rephrase a statement that isn't a direct attack toward the person you are talking to.
The most important thing I got from the book is : Don't think. Don't judge. Just listen. It's self explanatory. People don't take the time to
just listen
to each other. Maybe it's time to try.
-L